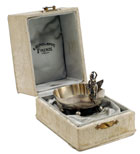 Eurogift, based in Florence, Tuscany, has been working for over 22 years in the high quality corporate gifts sector. We have opened offices in London, New York, Paris and Madrid. Since we are the only authorized distributors of some of the best and most well renowned "Made in Italy" Brand names corporate gift items. We are entitled to offer to you everything at factory prices or better.

At the moment we are honoured to offer "Corporate and Business Gifts" items specially designed by top Italian brands.
We are also pleased to offer you a wide choice of non-brand corporate gift items produced in

Italian silk, leather, silver and gold. These items can be made as to your specifications with your company logo. From silk ties and scarves to hand bags, wallets, organizers and jewellery…..we will work with you from design to the final product. Extreme versatility when satisfying the requests of a "Corporate Gift" makes Eurogift the ideal partner, prestigious and reliable - in synergy with your marketing strategies - capable of developing brilliant solutions. Here at Eurogift we guarantee you the best Italian quality at a fair price.
In the view a global consulting service, Eurogift offers its know-how in order to organize and manage interior marketing events and external promotion.
Eurogift is proud to count among its clients - often in an exclusive relation- institutional authorities, banks, insurances groups, multinational entities working in the pharmaceutical, petrochemical and computer industry and and also industrial corporations dealing with the mechanical, naval and technological sector, casinos, hotel chains and other public and private entities of national and international great importance.